Department of Public Works
COLLECTION SCHEDULE FOR CHRISTMAS TREES
****ATTENTION RESIDENTS****
****COLLECTION SCHEDULE FOR CHRISTMAS TREES****
CHRISTMAS TREES WILL BE COLLECTED STARTING TUESDAY JANUARY 3rd, 2023 AND WILL RUN THROUGH JANUARY 27th, 2023. TREES WILL BE COLLECTED ON YOUR RECYCLE DAY. AFTER THIS TIME, CHRISTMAS TREES CAN BE DROPPED OFF AT THE BONDI ISLAND LANDFILL. THE DPW WILL NOT BE PICKING UP TREES AFTER JANUARY 28, 2022. AS A REMINDER, ALL TREES MUST BE FREE FROM ALL DECORATIONS, INCLUDING LIGHTS, ORNAMENTS, TINSEL AND TREE STANDS.
TREES THAT ARE SNOW COVERED OR BURIED IN SNOW BANKS WILL NOT BE COLLECTED. PLEASE MAKE SURE THAT THE TREES ARE ACCESSABLE TO OUT CREWS.
DO's and DON'Ts for holiday trash and recycling:
Please DO include the following items in your Single Stream recycling mix:
-corrugated cardboard boxes. Flatten and tie in 3' x3' bundles, no tape. No waxed cardboard.
-paperboard gift boxes
-greeting cards (except those with foil, metallic inks, or glitter)
-gift wrap, gift bags, tissue wrap (except those with foil, metallic inks, or glitter).
-paper shopping bags (any type of handle is okay).
-newspapers/ inserts, magazines/catalogs
-paperbacks & phone books
-junk mail – windowed envelopes are OK.
-white and colored paper, computer paper, shredded paper – place in paper bags.
-all plastic bottles, jars, tubs and plastic microwave trays/containers under 2 gallons in size
-glass bottles/jars, all colors and sizes – Please remove and discard all caps
-aluminum, tin/steel cans and lids and aluminum foil
Please DO NOT include the following items in your recycling mix:
-ribbons, bows, and tinsel.
-packing peanuts and Styrofoam
-holiday lights
-paint or aerosol cans or other metal items
-broken or other glass such as light bulbs, window - auto glass, dishes, glasses, Pyrex, ceramics
-no plastic grocery/newspaper bags
-containers over 2 gallons in size, motor oil, chemical or foam containers or flower pots
-pizza boxes
-batteries
-used paper plates, cups, napkins, toilet tissue
Please be aware that due to the Holidays, the Landfill will be closed December 26, and January 2.
***ATTENTION RESIDENTS***
As of Monday. December 19, 2023, the DPW is no longer collecting residential yard waste, as posted a few weeks ago.
The Bondi's Island Landfill is open for disposal of yard waste and residents can bring material to the landfill.
Please be aware that due to the Holidays, the Landfill will be closed December 26, and January 2.
WANTED SNOW PLOWING & HAULING EQUIPMENT
ADVERTISEMENT
WANTED
SNOW PLOWING & HAULING EQUIPMENT
CITY OF SPRINGFIELD, MASSACHUSETTS
BID NO. 23-024
Sealed Bids for:
RENTAL OF SNOW PLOWING, AND HAULING OF SNOW AND ICE, TRUCKS AND EQUIPMENT FOR
2022 – 2023 WINTER SEASON
WILL BE RECEIVED BY THE:
DEPARTMENT OF PUBLIC WORKS
ATTN: ISABEL PUPPOLO (413) 750-2803
70 TAPLEY STREET, SPRINGFIELD, MA 01104
BY APPOINTMENT ONLY
BIDS WILL BE ACCEPTED UNTIL NOVEMBER 18, 2022 IN ORDER TO RECEIVE INCENTIVE RATE. BIDS WILL BE ACCEPTED THROUGH DECEMBER 31, 2022 FOR STANDARD RATES.
Specifications and bid forms will be available beginning September 6, 2022 at the Department of Public Works Operations Center, 70 Tapley Street, Springfield, MA 01104, Monday thru Friday from 8:00AM TO 11:30 AM and 12:30 PM TO 3:00 PM. and at the Office of Procurement, 36 Court Street, Room 307, Springfield, MA 01103, Monday thru Friday 8:15AM to 4:30PM. or request by email address lstabilo@springfieldcityhall.com and City's website on the Procurement Department page at www.springfieldcityhall.com.
Please contact Isabel Puppolo at the number listed above prior to arrival at Tapley Street facility.
Bidder must comply with City Equal Opportunity Requirements. Return all required forms completed, signed and notarized where required. The Chief Procurement Officer reserves the right to reject any or all bids.
St James Ave & Tapley Street Traffic Upgrades
The proposed project consists of constructing a roundabout in place of the existing signal at the project location. Pedestrian and bicycle accommodations will be provided in the form of raised shared-use paths, generally 10 feet wide except on the Tapley Street bridge, where an at-grade area for bicycle and pedestrian travel will be provided along the south side. High-visibility crosswalks, ADA-compliant curb ramps, and rectangular rapid flashing beacons are proposed to be provided across each leg of the roundabout to facilitate safe crossings. The left turn onto the on-ramp from St. James Avenue northbound to I-291 westbound is proposed to be signalized.
****ATTENTION RESIDENTS - YARD WASTE****
The DPW will pick up yard and leaf waste at the curb from Springfield residents on alternating weeks, the same day that recycling is set out. Yard waste and leaves should be placed loosely in a 32 gallon barrel with handles or in special paper thirty (30) gallon capacity leaf bags. These bags can be purchased at local grocery or hardware stores. Yard waste is defined as: grass clippings, weeds, hedge clippings, garden waste, as well as twigs and brush. Twigs and brush should not be longer than two (2) feet in length and one-half (1/2) inch in diameter. Bags and barrels shall not weigh more than 40 lbs. when full.
The DPW will also pick up branches. Branches can be no wider than 3" in diameter and no longer than 4' and must be tied for pickup in manageable sized bundles.
Residents will still be able to drop off their yard waste at the City of Springfield Landfill during regular operating hours, which includes Saturday's from 7am to 12pm.
Be advised that yard waste paper bags that have been at the curb since December of last year will not be picked up and should be re-bagged.
Department of Public Works Contact Information
Immediate Changes to Bulk Pickup
Due to issues surrounding the Coronavirus, the DPW will be enacting the following immediately.
All mattresses and Box Springs to be picked up as part of the City Bulk Collection Services must be placed in plastic mattress bags. These disposal bags are available at Lowe's, Home Depot, Walmart, and through Amazon, as well as other retailers. If the mattresses and box springs are not properly placed in the bags, they will not be picked up. Mattress plastic bags that come with the purchase of a new mattress / box spring can be reused as long as they are 100% sealed with duct tape. This policy will continue indefinitely until rescinded by the Director of the Department of Public Works.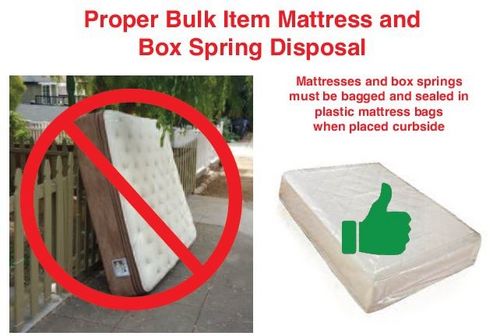 All utilities and contractors must be in good standings with the Engineering Division of DPW, which includes 2019 annual utility or contractor license fee and supporting documents. Please contact Patrick Garrity at dpwpermits@springfieldcityhall.com or 413-787-6584 with any questions, as well as to obtain the most current version of the Occupancy Manual.
City Continues Push to Keep Trash out of Recycling Barrel

While the single stream recycling program has doubled the recycling rate of the City, it has not come without some challenges. The biggest challenge facing the program is the putting of non-recyclable items in the blue recycling carts.

Recycling barrels that contain non-recyclable items will be tagged with an orange sticker and not collected. The resident will have to remove the items and put it out on their next collection day.

Hazardous materials and other non-recyclable items placed into recycling containers caused the contamination of 6 loads of recyclable materials in April.

One of the truck loads of recyclable material was contaminated by tar improperly disposed of in the recycling cart. Almost half of the contents of the entire truck were contaminated and had to be hauled to a landfill.

To some it may seem harmless to toss a rogue item into a recycling container. However, we want to make sure people understand that it's far from harmless. The simple act of placing oil or any other non-recyclable material into a recycling container can contaminate an entire load of clean recyclables.

The City will be launching an education campaign to inform residents as to what you can and cannot put in the recycling barrel. The "10 most unwanted list" flyer will be put in the May 28th edition of The Republican and also posted on the City website. This list is comprised of the 10 most commonly found non-recyclable items found in the blue recycling barrel. Flyers will also be available for free at your local library, community center, senior center or by calling customer service at #311.

The City will be utilizing grants from the Massachusetts Department of Environmental Protection and the Springfield MRF Advisory Board in order to fund this outreach initiative.
"Please have your items at the curb by 6:30 am on your Recycling Day for collection."


DPW Pothole Hotline 736-3111


Clearing your Catch Basin Helps Everyone!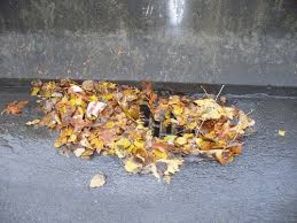 Please be advised that it is every property owner's responsibility to keep their catch basins clear of leaves and debris. There are approximately 23,000 catch basins in the City and we do not have enough personnel to keep up with the demand of removing leaves and litter from the surface of the catch basins.
Also, please note that clean catch basins are instrumental in the proper drainage of streets, this is extremely important during the winter months when the thawing and refreezing of snow banks occurs. We thank you for your consideration and cooperation in this matter.