Parks Dept. Fun for Kids and Families
If you have any Park maintenance issues please remember to call 311. You may also visit the 311 website.
Learn, Play, Grow
Summer Enrichment Programs
Program Information
Dates: July 1, 2019 - August 9, 2019 (Closed July 4 & 5)
Times: Monday - Friday, 8:30 AM - 3:00 PM
Ages: 6-13
Sites: Liberty School, Central High School, Renaissance School, ECOS In Forest Park, Pottenger School (21st CCLC site)
All programs are theme-based. Click here for a description of the themes for each site.
MUST BE A SPRINGFIELD RESIDENT!
Registration Information
Location: All registrations will take place at Cyr Arena (200 Trafton Road)
Times: 9:00 AM - 2:00 PM
Cost: $50 for the first child and $25 for each additional sibling (CASH ONLY!)
ONLY LEGAL PARENTS/GUARDIANS MAY REGISTER A CHILD
Registration Schedule
| | |
| --- | --- |
| Monday, May 13 | Renaissance School (Science Explorers) |
| Wednesday, May 15 | Central Highschool (Sports Of All Sorts) |
| Thursday, May 16 | Liberty School (Arts In Action) |
| Friday, May 17 | ECOS (EcoAdventures) |
| Monday, May 20 | Pottenger School (Destination Science) (21st CCLC) |
Coming To Forest Park For Registration
All Summer 2019 Registrations take place at Cyr Arena in Forest Park. Cyr Arena is the indoor ice skating rink located next to the swimming pool and basketball courts in Forest Park.
Address For Cyr Arena: 200 Trafton Road, Springfield, MA 01108
Forest Park Vehicle Fee: All parents/guardians coming to Forest Park for registration MUST pay the $3.00 (in state vehicle) to enter Forest Park or have a City park season pass. NO EXCEPTIONS.
*****THE FOREST PARK MAIN ENTRANCE ON SUMNER AVE. IS SCHEDULED TO CLOSE ON MAY 1ST. USE THE TRAFTON ROAD OR ROUTE 5 ENTRANCES*****
THINGS TO BRING TO REGISTRATION
Birth Certificate for each child being registered
Non-Refundable CASH ONLY Pre-Registration Fee ($50 for the first child, $25 for each additional sibling)
***** NEW THIS YEAR *****
You may download the paperwork from our website (see the lniks below). Bring the completed paperwork with you to registration. This will speed up the registration process.
PLEASE NOTE THAT ATTENDING A REGISTRATION EVENT WITH COMPLETED FORMS DOES NOT GUARANTEE A SPOT IN THE PROGRAM.
WE WILL NOT ACCEPT MAILED REGISTRATION FORMS. FORMS THAT ARE MAILED WILL BE VOIDED.
Registration Material Download Links
Registration Forms (Make Sure You Print The Ones For The Program You Want To Register For)
Central Highschool (Sports Of All Sorts)
Liberty School (Arts In Action)
Pottenger School (Destination Science)
Renaissance School (Science Explorers)
Cost: FREE
Ages: 6-18
Where: Forest Park
Days: Monday-Thursday
Dates: Session 1 (July 8 - July 18), Session 2 (July 29 - August 8) No Classes The Week Of July 21
Times: Age 6 (9:30 - 10:30 AM), Ages 7-18 (9:00 - 11:00 AM)
Tennis Balls and Racquests will be provided. Participants need to wear sneakers.
Register Online
Questions? E-Mail us.
Viola Goodman Baseball Sport Program Signup
Two Signup Locations
Third Baptist Church (149 Walnut Street, Springfield, MA)
Saturday, April 13, 10=11 AM
Girls and Boys Club (Family Center) (100 Acorn Street, Springfield, MA)
Friday, April 19, 5:30-6:30 PM and Saturday, April 20, 10 AM - Noon
Ages: 6=12
Cost: FREE
Contacts:
Roy, 413-250-7520
Tony: 860-951-6167
Harold: 413-330-7102
Kevin: 413-599-4652
E-Mail: Bostonareachurchleague@gmail.com
Greater Springfield Harriers
Springfield Parks Department
&
Fast Feet
Prooudly Present
Annual Richard W. Childs Sr.
Trail Races
Starts on June 4, 2019
More Information Is Coming Soon!
Beginners Summer Softball Program
Where: Greenleaf Field
When: Tuesdays & Saturdays In July and August
Time: Saturdays from 10 AM to 12 PM. Tuesdays from 6 PM To 8 PM
Cost: $75.00/player
Registration Deadline: June 20
Parent/Player Meeting: June 29 @ 6 PM at Greenleaf Field
Click here to register or e-mail Jim Acciardo
Learn to Swim - The City of Springfield's Aquatics Department offers swimming lessons at a wide variety of levels. All Learn to Swim classes are available to participants ages three years and up. From getting your child comfortable in the water to perfecting your strokes, our program has everything needed to watch your child, or even yourself, grow into a strong and confident swimmer. Click on the link for more information!
02H (Overweight to Healthy)- This aquatic fitness program is designed to meet the specific needs of those who are extremely overweight or obese. Exercising in the water allows for low-impact movements that increase range of motion and circulation. Whether you are simply walking or using our aquatic fitness equipment for extra resistance, we can offer a personalized workout for you at your own pace. No swim experience is needed! Click the link for more information!
Lifeguard Training Classes- If you are at least 15 years of age and want to become a lifeguard, call the Aquatics office to sign up at 413-787-6298. The lifeguard training is a great way to earn extra money after school or over the summer! It is also a step in the right direction for a job in the medical field. Many of our lifeguards go on to be EMT's, Paramedics, Police Officers, Fire Fighters, and more! Special offers apply to Springfield Public School students!
WSI (Water Safety Instructor) - If you wish to be certified to teach swimming lessons, this is the program for you. Help children from the ages of three and up learn how to swim and feel more comfortable in the water. It is a great way to earn extra money whether you are a student or someone with another full time job. The City of Springfield offers this course at a very low rate compared to other organizations! Call the Aquatics office for more information!
PLEASE CALL THE AQUATICS OFFICE AT 413-787-6298.
For flyers and additional information please visit the Aquatics page.
Public skating is offered at Cyr Arena in Forest Park on Friday and Saturday evenings from 7:00 p.m. – 8:50 p.m. and Sundays from 2:00 p.m. – 3:50 p.m. beginning on Friday, October 5. There is a $5.00 admission fee ($3.00 for youth) and a $4.25 skate rental fee. Birthday parties may be scheduled please call 787-6438 after 4:00 p.m. for booking and fee information.
Valley Advocate Votes Forest Park Best Public Park 2013!
With 736 acres of open space and a variety of recreation options for the whole family, Forest Park, the crown jewel of Springfield, has been voted the best public park in the Pioneer Valley by the Valley Advocate! Stop by today to see what's blooming!
For more information on park amenities and hours, visit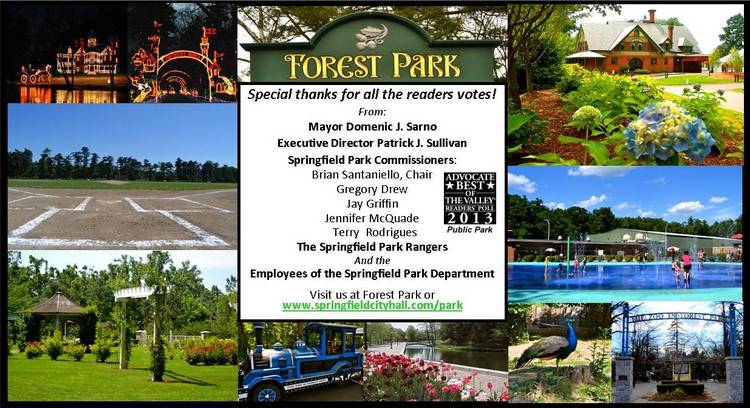 Looking for a free afterschool program that provides a safe, fun-filled environment for your children with lots of opportunities for hands-on educational and recreational activities to support what they do during the school day? The Recreation Division of the Department of Parks, Buildings and Recreation Management (DPBRM) runs afterschool programs at six elementary schools located throughout the city and funded by the City of Springfield and the Massachusetts Department of Elementary and Secondary Education (DESE).
Testimonials:
This is awesome! You guys are doing a great job. I just want to thank you for letting my children be involved in the program. (A Pottenger Parent)
Camp STAR Angelina Universal Master Plan
| Site | Days | Times |
| --- | --- | --- |
| Brookings Elementary School (Walnut Street) | Mon. - Wed. | 5:30 pm - 8:30 pm |
| Forest Park Middle School (Oakland Street) | Mon. - Fri. (Closed Tuesdays) | 5:30 pm - 8:30 pm |
| Gerena Elementary School (Birnie Ave.) | Mon. - Fri. | 6:00 pm - 8:00 pm |
| Kennedy Middle School (Berkshire Ave.) | Mon. - Wed. | 5:30 pm - 8:30 pm |
| Milton Bradley Elementary School (Mulberry Street) | Mon. - Fri. | 5:30 pm - 8:30 pm |
Programs start the week of December 3, 2018. For more information call 787-6434.
"Firsts Things First - Celebrating Springfield"
The City of 50 Firsts!