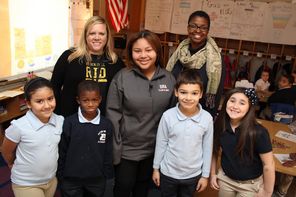 The Springfield Public Schools (SPS) operate under the SPS Boundary School Assignment Plan on the elementary (kindergarten – grade five) and middle school (grades six – eight) levels. The Boundary Plan links every address in the city with a corresponding elementary and middle school. Students are guaranteed placement at their appropriate Boundary School (with the exception of some programmatic or medical needs). Additional elementary and middle school choices are offered under the Magnet Schools Program. Magnet School enrollment is available to students regardless of their address and each school offers a unique and exciting theme.
At the high school level (grades nine – twelve) students must apply to the city's high schools through the High School Choice Lottery Process.
Parent and Community Engagement (PACE) Center
91 School Street
Springfield, MA 01105 (map)
Phone: 413.787.6959
Fax: 413.787.6692
For more information about the Springfield Public Schools and their programs, please visit
www.springfieldpublicschools.com
or call 413.787.7100.