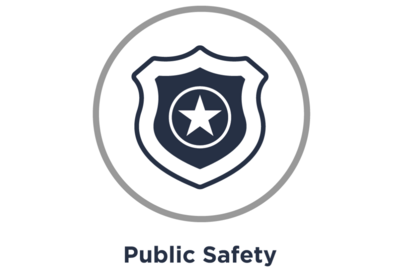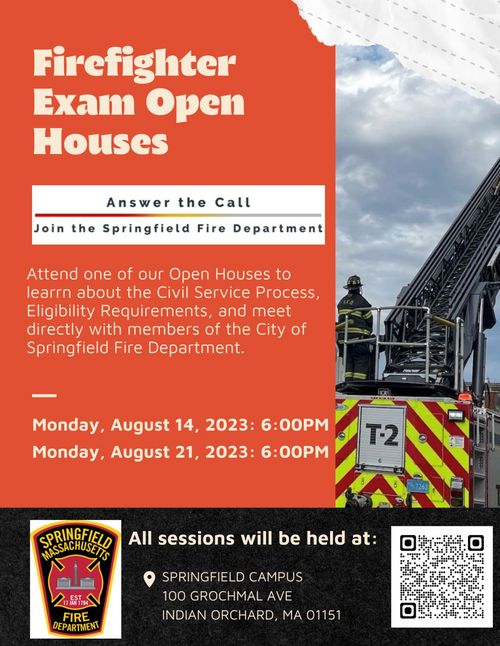 Mayor Sarno Appoints Christy Torres to Board of Police Commissioners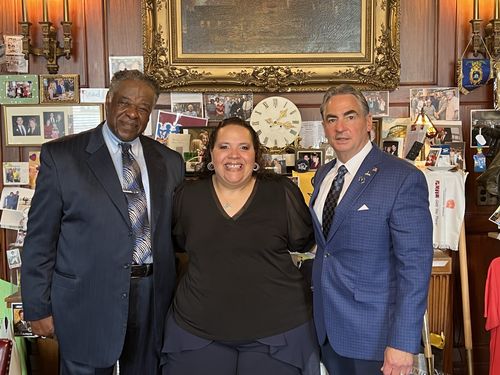 Mayor Domenic J. Sarno announced on July 13th that he has appointed Christy Torres of Springfield to the Board of Police Commissioners. Torres is replacing Norman Roldan who resigned on June 30, 2023. She will serve out the remainder of that term, which expires on April 1, 2024.
Torres currently serves as the CEO/President of the Western Mass Tiny Home Initiative and served as a compliance and operations manager for a construction company. She previously worked as a property manager for both the Valley Opportunity Council and Home City Housing. Torres holds a Master's degree in Organizational Management and Leadership, and a Bachelor's degree in Human Services from Springfield College.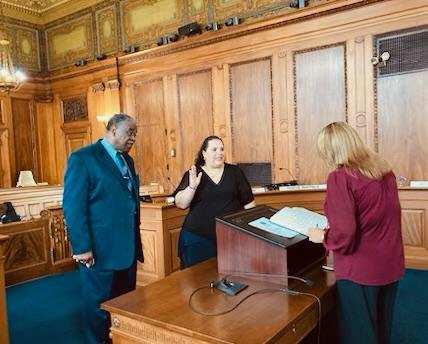 Mayor Sarno states, "First, I want to thank everyone who submitted a letter of interest to serve on our Board of Police Commissioners. Christy Torres is a person of high character and well respected in our community. She brings a unique perspective with her well-rounded background of work, education, and community involvement. Her life and career experience will complement our Board of Police Commissioners well, and I have the full confidence in her abilities to serve our community in this capacity as a member of our Board of Police Commissioners."
Christy Torres said, "I want to thank Mayor Sarno for his vote of confidence in my abilities to serve on the Board of Police Commissioners. I believe that my life experiences and educational and work background make me an excellent choice to serve my community. I am looking forward to joining this distinguished Board and utilizing my skills to serve my community and the Springfield Police Department."
Commissioner Torres was sworn in on July 27, 2023.
Star Spangled Springfield 4th of July Celebration!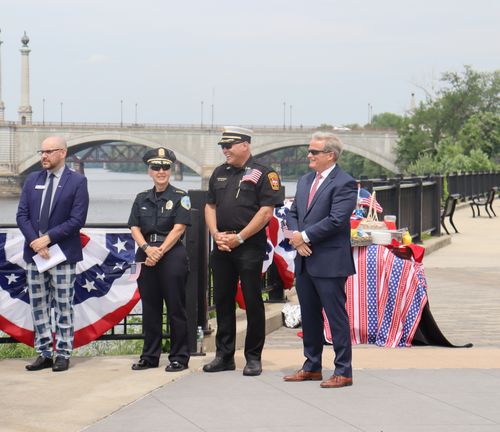 The City of Springfield and Spirit of Springfield, along with many dedicated partners are preparing for another spectacular Star Spangled Springfield Celebration.
Festivities will be held on July 4, 2023 in Riverfront Park from 6pm to 10pm with Fireworks by Grucci at 9:30pm with musical simulcast on MIX 93-1.
Learn details at spiritofspringfield.org

Mayor Sarno and Springfield Police Announce 14 Illegal Firearms Seized, More than 1000 Grams of Fentanyl Recovered, Murder Suspect Arrested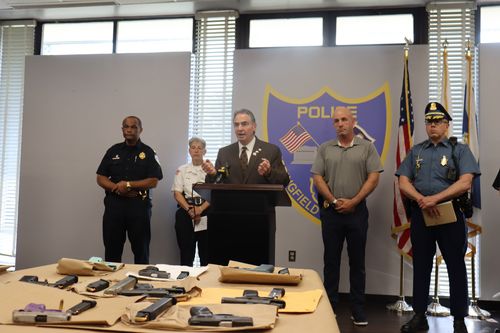 Mayor Domenic J. Sarno joined today with Springfield Police Superintendent Cheryl C. Clapprood, Massachusetts State Police Major Brendan Shugrue, Frank Ott - Chief of Public Safety Operations for the Hampden County Sheriff's Department, members of the Springfield Police Department Command Staff, Firearms Investigation Unit and C-3 Units on Friday to announce the ongoing results of a multi-agency and multi-faceted operation in the areas of Union, School, High and Temple Streets. In the past eight days, 14 illegal firearms have been seized, more than 1000 grams of fentanyl has been recovered and 44 suspects were arrested in investigations spurred by the Superintendent's strategic plan to address issues in that corridor of the city.
Read more: Mayor Sarno and Springfield Police Announce 14 Illegal Firearms Seized, More than 1000 Grams of Fentanyl Recovered, Murder Suspect Arrested: City of Springfield, MA (springfield-ma.gov)
Springfield Public Safety Officials Recognized for Contributions to Local Non-profit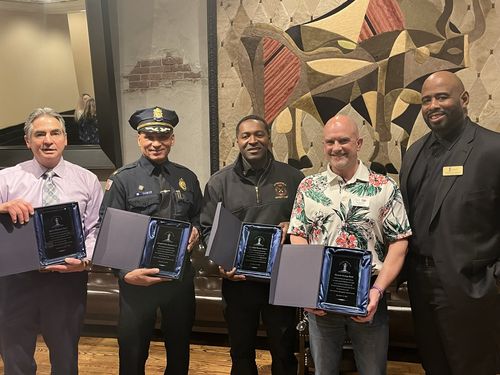 Deputy Police Chief Rupert Daniels and District Fire Chief Tyrone Denson were recognized along with Mayor Domenic J. Sarno and Monson Savings Bank President Dan Moriarty with an award for their longstanding support and commitment to the I Found Light Against All Odds organization and those they serve.
Stefan Davis founded the non-profit I Found Light Against All Odds to support youth and families in addressing social, emotional, and economic issues. I Found Light continues to support at-risk youth and families in need. Proceeds from the Celebrity Bartending event, which took place on International Women's Day, will help I Found Light Against All Odds purchase a home for homeless teen girls. A silent donor has pledged to match up to $100,000 to help with the purchase of the home.
Pictured abive is Mayor Sarno, Deupty Police Chief Daniels, Fire Chief Denson, Dan Moriarty, and I Found Light founder Stafan Davis.

Springfield Police to Begin a New Round of Compliance Checks at Businesses that Sell/Serve Alcohol for 2023
12/29/2022
The Springfield Police Department will be conducting compliance checks at businesses that sell and/or serve alcohol, including bars, restaurants and package stores in 2023.
The compliance checks may begin as soon as January 1st and will be conducted randomly throughout the year. The checks are to ensure that businesses are properly checking ID's and not selling or serving alcohol to anyone under 21. This notice is to remind and encourage all business owners and managers to properly train their employees to ensure no one underage is sold alcohol.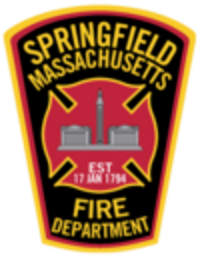 Key Dates for the Municipal Firefighter Examination
Application Opening: July 1, 2023
Application Deadline: August 29, 2023
Notices to Appear for Written Test: September 29, 2023
Written Examination Beginning Date: October 14, 2023, through October 21, 2023

Please Note: The original examination date of October 14 will be utilized for all statutory purposes.
Notices to Appear for ELPAT: After taking the written examination, you will receive your notice approximately two weeks prior to your scheduled date and time for the ELPAT.
Score Release Date: TBD
Employment/Experience (E/E) Last Day to Appeal: TBD
Eligible List Establishment Date: TBD
Written Test Location: Various Sites across the Commonwealth
ELPAT Test Location: 571A Main Street, Hudson, MA 01749

Springfield Emergency Communications is the primary public safety answering point for the City of Springfield, Massachusetts. Calls to 9-1-1 within the City of Springfield ring through to our highly trained emergency communications professionals, whose primary role is to determine the location and nature of the emergency and dispatch the appropriate public safety resources.
Springfield Emergency Communications provides dispatch services for Springfield Police Department and Springfield Fire Department.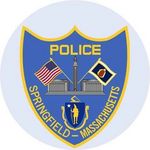 The Springfield Police Department's mission is to provide public safety and to contribute to the quality of life for the citizens of the City of Springfield by protecting, serving and working with the community to develop philosophies which promote equity and establish partnerships between citizens and police to enhance law enforcement, aid in the prevention of crime, and preserve public peace.
Led by Police Commissioner Cheryl Clapprood, just under 500 sworn police officers serve approximately 154,000 residents across 33 square miles. The Springfield Police Department is the most diverse department in the Commonwealth with 51% of sworn officers being Hispanic, Black or Asian.
SPD is dedicated to serving the community with respect, integrity and distinction and ensuring residents, business owners and visitors are provided with the best police services possible. All sworn officers and supervisors in the department wear body-worn cameras while on duty. Additionally, the department is currently in the process of becoming a Massachusetts Police Accreditation Commission (MPAC) Certified Police Department. Through this self-initiated, voluntary evaluation process, police departments strive to meet and maintain the highest standards of law enforcement and demonstrate their commitment to continuous progress and improvement.

History of the Springfield Police Department


130 Pearl Street
Springfield, Massachusetts 01105
EMERGENCIES ONLY: 911
Non-Emergency Matters: (413) 787-6300
Non-Emergency Incident Report Line: (413) 750-2525
Community Police Liaison: (413) 787-6359
Media Inquiries: (413) 735-1571
Clerk's General Information Email Address
clerks-office@springfieldpolice.net

The Springfield Police Department and Massachusetts State Police C3 teams facilitate unity of effort and criminal intelligence gathering by, with, and through interagency, community, and private enterprise cooperation in order to detect, disrupt, degrade and dismantle criminal activity.