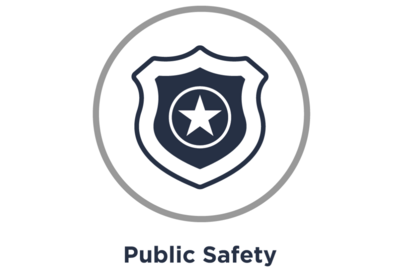 Springfield Police to Begin a New Round of Compliance Checks at Businesses that Sell/Serve Alcohol for 2023
12/29/2022
The Springfield Police Department will be conducting compliance checks at businesses that sell and/or serve alcohol, including bars, restaurants and package stores in 2023.
The compliance checks may begin as soon as January 1st and will be conducted randomly throughout the year. The checks are to ensure that businesses are properly checking ID's and not selling or serving alcohol to anyone under 21. This notice is to remind and encourage all business owners and managers to properly train their employees to ensure no one underage is sold alcohol.
Want to Become a Firefighter?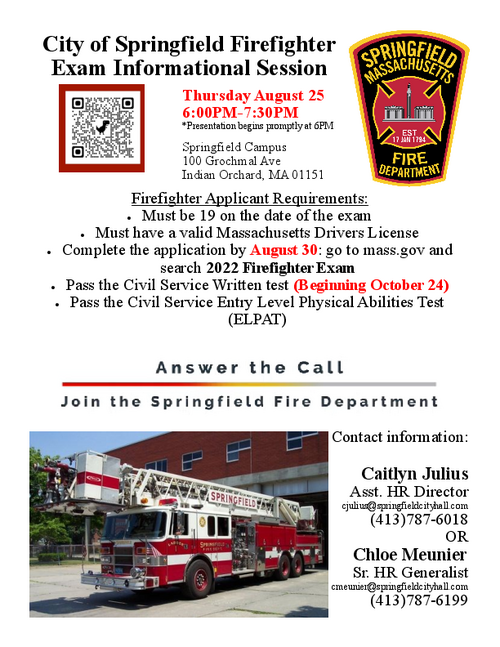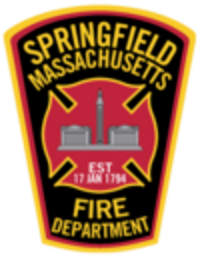 Written Examination Date(s): Beginning October 24, 2022
Application Open Date: July 5, 2022
Application Deadline: August 30, 2022*
Candidates are advised to apply 2022 Firefighter Exam as soon as possible and encourage to visit local Fire Station during the Open House. Meet with and learn about Fire Departments from around the region including Chicopee, Holyoke, Springfield, Ware and others.
There are two Municipal Firefighter Exam & Career Information Sessions in Springfield this summer. Both sessions will take place at Springfield Campus, Classroom 119, 100 Grochmal Avenue, Indian Orchard, MA 01151.
Dates/Times
Thursday, July 28th from 6:00 to 7:30 PM
Saturday, July 30 from 10:00to 11:30 AM

Springfield Emergency Communications is the primary public safety answering point for the City of Springfield, Massachusetts. Calls to 9-1-1 within the City of Springfield ring through to our highly trained emergency communications professionals, whose primary role is to determine the location and nature of the emergency and dispatch the appropriate public safety resources.
Springfield Emergency Communications provides dispatch services for Springfield Police Department and Springfield Fire Department.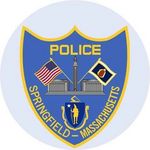 The Springfield Police Department's mission is to provide public safety and to contribute to the quality of life for the citizens of the City of Springfield by protecting, serving and working with the community to develop philosophies which promote equity and establish partnerships between citizens and police to enhance law enforcement, aid in the prevention of crime, and preserve public peace.
Led by Police Commissioner Cheryl Clapprood, just under 500 sworn police officers serve approximately 154,000 residents across 33 square miles. The Springfield Police Department is the most diverse department in the Commonwealth with 51% of sworn officers being Hispanic, Black or Asian.
SPD is dedicated to serving the community with respect, integrity and distinction and ensuring residents, business owners and visitors are provided with the best police services possible. All sworn officers and supervisors in the department wear body-worn cameras while on duty. Additionally, the department is currently in the process of becoming a Massachusetts Police Accreditation Commission (MPAC) Certified Police Department. Through this self-initiated, voluntary evaluation process, police departments strive to meet and maintain the highest standards of law enforcement and demonstrate their commitment to continuous progress and improvement.

History of the Springfield Police Department


130 Pearl Street
Springfield, Massachusetts 01105
EMERGENCIES ONLY: 911
Non-Emergency Matters: (413) 787-6300
Non-Emergency Incident Report Line: (413) 750-2525
Community Police Liaison: (413) 787-6359
Media Inquiries: (413) 735-1571
Clerk's General Information Email Address
clerks-office@springfieldpolice.net

The Springfield Police Department and Massachusetts State Police C3 teams facilitate unity of effort and criminal intelligence gathering by, with, and through interagency, community, and private enterprise cooperation in order to detect, disrupt, degrade and dismantle criminal activity.