State Street Corridor Project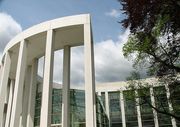 Project Manager: Mass Highway
Project Boundaries: State Street (From East Columbus Avenue to Berkshire Avenue)
Contractor: Palmer Paving Company
Engineer: VHB, Inc.
Project Budget: $17,000,000 Federal and State Matching Monies.
Start Date: August 11, 2008
Anticipated Completion Date: Summer, 2010
Description:
The State Street corridor runs 3.2 miles and is the major east-west
connector in the City. Along this corridor are businesses, residences, parks, cultural amenities institutions and major historical assets. In addition State Street is soon to be home of the new federal courthouse as well as the new MassMutual Center. The project will address the physical conditions and transportation issues along the entire 3.2 mile corridor. These changes include improved traffic flow, substantial landscape improvements, improved vehicular and pedestrian safety, and innovative parking solutions. The goal of this project is for State Street to continue to be a vital and proud link between the residents, local businesses and area institutions. The vision is an urban boulevard with strong visual appeal that will act as a front door to neighborhoods, key institutions, and employers. Preliminary research shows a possible total of nearly $400 million of annual expenditure potential.
Project Status: A July 1, 2008 groundbreaking took place for the State Street Improvement project. Construction began in August, 2008 with work starting between Main Street and Oak Street along the corridor. Work includes drainage, hydrant work, signal work, street light foundations, curbing relocation, and sidewalk replacement. Work is expected to be substantially complete early in 2010.
The Office of Planning and Economic Development continues to work with the State Street Alliance. The State Street Alliance has released the 68-page State Street Redevelopment Program and Technical Memoranda documents, which identifies catalytic projects and initiatives that capitalize on near-term market opportunities of the 3.2 mile State Street corridor. The State Street Alliance is comprised of over 50 private and public entities dedicated to the redevelopment of State Street.
This commercial and mixed-use redevelopment initiative will complement the $17 million roadway improvement project.
The new $70 million Federal Courthouse has four courtrooms and had its grand opening in October, 2008.
Contact: For more information regarding the State Street Roadway Improvement Project please contact Bob Houldson
Read an article from The Republican about the State Street Project
Read a briefing to Congressman Neal regarding the State Street Project