With New Casino, A Big Bet on Springfield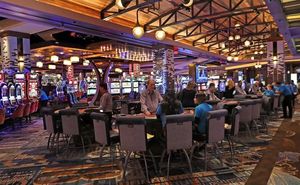 Hanging conspicuously in the middle of the new MGM Resorts International casino here is a massive framed picture from 1888, showing every member of the Free and Accepted Masons Lodge, Springfield Commandery #6.
It is a sea of stone-faced men with comically wild facial hair, an image that is at once fascinating and weird. And yet it fits the offbeat décor of the state's first resort casino, which is brimming with appreciative nods to the city's history and curious fragments from the past.
It looks like no casino you've ever seen... (Read More)