Greening the Gateway Cities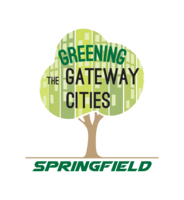 You Could Qualify For a Free Tree at Your Home or Business
The Greening the Gateway Cities Program (GGCP) is a state-wide community forestry program that aims to reduce household heating and cooling bills by planting free shade trees at qualifying homes and businesses. McKnight, Old Hill, and parts of Upper Hill have been selected to begin the Springfield branch of the program. This state program is funded by the MA Department of Energy Resources (DOER) and administered by the Executive Office of Energy and Environmental Affairs (EEA). Visit the state page at maurbancanopy.org.
The Springfield division was introduced in early 2018 and aims to plant 2,400 trees over the course of 3 years with 80% of these trees planted on private property. McKnight, Old Hill, and Upper Hill were chosen because they have some of the lowest tree canopy cover in the City – 11.4%, 15.9%, and 12% respectively. A healthy urban forest improves the quality of the water we drink, the air we breathe, the stability of our neighborhoods, and our sense of community.
Let your friends, family, and neighbors know that we will be giving out free trees and in return, we only ask the homeowner to water the tree for two years so they can establish. During the Summer, our partner ReGreen Springfield will have sign up stations located in public parks and at community events around the city. You will also see the Springfield GGCP crew canvassing the neighborhood.
Residents can request a visit with a forester for trees by dialing 3-1-1 if your in the city or 736-3111 if outside the city.You can also sign up online by filling out this brief contact form. We do site visits year-round so it's always a good time to request a tree!
Our planting seasons are:
Spring - April 1st to June 30th
Fall - September 1st to November 30th
Please, take a look at our links on the right for more information or click here to request a free tree.
Contact us Directly with any Questions
| | |
| --- | --- |
| Joseph Pellegrino | Tara Shewchuk |
| Project Coordinator | Assistant Project Coordinator |
| 413-750-8022 | 413-750-8560 |