Greening the Gateway Cities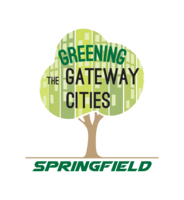 If you live or work in McKnight-Hill area, you can get free trees!
Greening the Gateway Cities Springfield (GGC Springfield or GGCP) was created to increase tree coverage in urban areas in Massachusetts. Homeowners, business owners, and renters in the McKnight-Hill neighborhoods can get free trees on their property to shade your parking lot, porch, or building.
Residents can request a visit with a forester for trees by dialing 3-1-1 if your in the city or 413-736-3111 if outside the city.You can also sign up online by filling out this brief contact form. We do site visits year-round so it's always a good time to request a tree!
Check out some of the trees we offer here!
We're Hiring! Join our Team
GGCP Springfield is looking for interested applicants who have experience in community outreach and arboriculture to fill the Asst. Project Coordinator position! Check out our job posting and put in an application if this sounds like a good fit. This is a full time position with benefits through the City of Springfield.
In February 2020, Greening the Gateway Cities Springfield, with the City of Springfield Forestry Dept. and ReGreen Springfield will be offering a kid friendly, hands-on, educational workshop to learn how to prune a tree!
The workshop will be 1 hour of class time in the Mason Square Library at 765 State Street, and then 2 hours of pruning in the war memorial in front of the Mason Square Library. This event is free of charge. Restrooms will be available through the library.
Contact Joe Pellegrino at 413-750-8022 or JPellegrino@Springfieldcityhall.com for any questions.
For a second year in a row, we've partnered with Springfield Water and Sewer Commission (SWSC) to bring you a limited time opportunity. If you sign up for two or more trees on your property for spring 2020, you are eligible for a free rain barrel!
We are seperate from the Springfield Water and Sewer Commissions annual rain barrel sale. If you qualify for a free rain barrel, a GGCP Forester will take your order when they do a site visit with you. If you do not qualify through our program and would like to buy a rain barrel from SWSC, please visit their site at http://waterandsewer.org/education-and-community/rain-barrel-program/
You can use the rain collected to water your new tree, garden, or wash your car. You just can't drink it!
Contact us directly with any questions