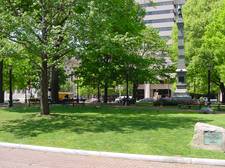 The Forestry Division is responsible for the care of public shade trees in Springfield. While our primary focus is on street trees, the Division also helps maintain the beauty of our park trees, shrubs, and other vegetation. The Forestry Division is committed to preserving the urban tree resource of the City while maintaining public safety.
The work done by the Forestry Division includes:
Street Tree Inspection
Tree Trimming
Hazard Tree Removal
Planting of Public Shade and Park Trees
Stump Grinding
Daily operations of the Forestry Division include routine trimming, tree inspections and hazard tree removals. While the immediate maintenance needs of the City's trees is important, planning for Springfield's future urban forest is also a priority of the Division. Tree planting is an integral part of maintaining a healthy urban tree population. The Forestry Division plants trees in the Spring and Fall. A combination of contracted services, in-house tree planting crews, and volunteer efforts are used to acheive the Division's planting goals.
Planning for the future also means keeping track of an ever-growing list of invasive pests and non-native diseases of trees. The Division continues to monitor the Hemlock Woolly Adelgid within the City. We are also keeping an eye out for pests not currently found in Springfield such as the Asian Longhorned Beetle and the Emerald Ash Borer. Detecting infestations of these invasive pests early is key to managing the impact on the urban forest.
The history of the Forestry Division is long and pride in the Division runs strong. The Forestry Division strives to maintain and beautify Springfield's urban tree resource as we have done since 1898.